See what our beneficiaries are saying about their lives.
These are very personal stories of some of our beneficiaries who have decided to share their story with others so that they may draw hope and understand that we see ourselves and survivors and not victims. Yes, life may be difficult for us most of the time, but we do have moments of happiness and joy and we would like to share these with you too!
"Lutho was born on 9 September 2002. I took him from his mother at the age of two when she was about to give him away to the social workers. They said that she cannot afford to look after a disabled child. At the time Lutho showed no sign of progress. He couldn't talk or crawl as other babies would at the age of two. His body looked like a blown up balloon. The doctor told me he lacked nutrition. It wasn't easy for us because he grew differently from the way children should normally grow. He crawled for 4 and a half years and all that time he was still using a nappy. I was busy up and down taking him to doctors while at the same time I was working. Looking after my own 3 kids and grand children and still take on Lutho was not easy. I was lucky I worked for Karin Hoole who is someone with a beautiful and good heart, especially for kids. She allowed me to take Lutho to the doctor even if it meant I had to miss work. When they scanned him they found fluid in his brain. They said he will be hospitalised for 12 months. The fluid was caused by something his mother drank while she was pregnant and trying to abort him. This caused TB meningitis, leaving him disabled. The doctors were able to drain most of the fluids and he was then only hospitalised for 4 months instead of the 12 months as predicted.
After the drainage he slept much better but sometimes woke up with abscesses or boils all over his head. Now there is none of that except lots of saliva and his weak teeth and bleeding gums. Lutho is now a 13 year old enthusiastic boy. A boy who is always smiling and happy. Right now I am waiting to hear about getting Lutho into a school where he will learn how to use his hands more. They will also teach him how to use computers and how to read. At the moment Lutho is still in the special school where we pay too much money and unfortunately there is no learning or stimulation and Lutho is getting too old for this school. We are keeping our fingers crossed for his acceptance at the new school."
- narrated by his foster mother Victoria Ngundze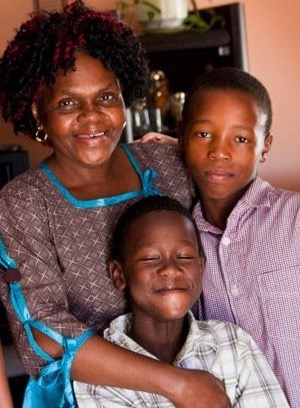 "Victoria moved to Cape Town from the countryside to seek employment in 1992, after the fall of apartheid, having to leave her four children with her mom. It took her three years until she could save enough money to visit them. She earned only R20 a day and a return ticket home was R300. In 2002 she still had not managed to secure a job that paid more than R750 a month. Victoria took extra work in her spare time in order to survive and send money to her mom to support her children. Later that year Victoria found a job that paid her a better salary and in 2006 she was able to move out of the shack where she had stayed since arriving in Cape Town, and into her own house. A dream comes true!
Thanks to wonderful sponsors Victoria is able to look after all the children in her home, feed them and send them to school. She is also paying off the repayments on her house. Victoria manages to care for all her children despite her full-time work, and they are dependant on her care.
Victoria is a success!"
- narrated by Karin Hoole
"I am Sinazo Yvonne Ngundze, the second last child of Victoria Nobantu Ngundze, born on 6 May 1989 in a small village in the Eastern Cape province of South Africa, called Vlei. I moved to Cape Town to be with my mother who was working hard to make a living for us. I started school in Cape Town at the age of 7 and for personal and financial reasons I moved back and forth between Cape Town and the Eastern Cape until I completed my schooling in Cape Town.
When I was 18 years old, I met two wonderful people who changed my life for the better. I had just matriculated but my grade 12 results did not meet university access requirements. So early in 2009 Lisa and her late husband Jan offered to help me pursue my dreams and improve my matriculation marks so that I could continue my education. I took it upon myself to enrol at Icon Independent High School where I studied for a year with Jan and Lisa's help. The following year I applied to university to study Horticulture. I finished my diploma and graduated in April 2015 and in the same year I started a B-Tech degree in Horticulture.
I want to thank my mother, Victoria, who struggled to raise us when she did not have a decent job but God blessed her with a wonderful couple, Karin and Quinton Hoole, who gave her a decent job. Karin took it upon herself to help Victoria's kids to enrol at the right schools and get her sponsors to help us with their education and I was fortunate to have my wonderful Lisa and Jan Jacobsen. Lisa continued to help me even when her husband Jan died. She has been helping me for the past 9 years and I know that I could not have pursued my studies if it was not for her and Jan's help. I will forever be grateful to them for accepting me as their own, and for believing in me when I had lost hope."
- Sinazo Ngundze
"I am Luxolo Tonny Ngundze, but my friends call me Toto. I was born on 27 March 1987 in the Eastern Cape Province of South Africa where I spent most of my childhood.
After matriculating at Ndaliso Senior Secondary School in 2007, life was very tough for me as I endured a lot during my childhood. My father passed away in 2003 and my mother was not working at all. I had no direction about how could I further my studies. My aunt Victoria asked me to come to Cape Town hoping to help me to further my studies...
Then I met Karin Hoole through my aunt who was working for Karin, and I realised that a miracle had happened, that this is the person who will help to change my life. And yes indeed, she changed my life because she gave me the chance to go to a university called the Cape Peninsula University of Technology in 2008, which was a huge challenge as the schools in the rural areas where I grew up are mostly poor performing schools.
In November 2008 I met a Good Samaritan called Håkan Larsson. It was so amazing because we chatted a lot although we hardly knew one another during that time. He taught me a million things that I will never forget in my life, he acted like a father to me, a coach, friend, brother, and teacher. He took care of me, making sure that anything I needed for school will be provided and facilitated by Karin Hoole. Although there were many challenges at university, both of them were there to mentor me and never gave up.
I finished my Bachelor of Education degree in 2012, and after struggling a bit to get a job, having to move to Johannesburg where there were more opportunities, in May 2013 I succeeded in finding a teaching position at Silver Oaks Secondary School where I still teach. My aunt Victoria, my father Håkan and guardian angel Karin have always been there for me and continue to this day, and I love them. I will always be grateful to them for shaping my life and giving me hope. They taught me never to give up and that there is always light at the end of the tunnel."
- Toto
"Anna was born in Zimbabwe where she and her family suffered extreme poverty. After her parents died she was unable to provide for her family of nine members, including her son, Blessed, who was 12 years old at the time.
In 2007 Anna left Zimbabwe and settled in Cape Town where she battled to find work; she was only able to find seasonal work picking grapes.
In 2009 there was a wave of xenophobic attacks and Anna was sheltered in a safe house with her newborn twins. When the twins were 10 months' old she had to leave the safe house, as other people needed the space. It was then that we heard Anna's story from a friend, and decided to take her in to stay with us. She stayed with us for 5 months whilst I helped her look for work. I needed to support her emotionally, as we didn't know how she would cope as an unemployed, single mother with twins. A few times she was ready to give up.
Thanks to A Reaching Hand sponsors, Anna got the financial support to make her dream come true. After not seeing her family and son for almost three years, she was able to visit them for three weeks. We finally found her employment as a nanny with a wonderful family, she is still with them, and was later able to bring her son to Cape Town to live with her and his twin siblings Nathalie and Brandon. Furthermore, A Reaching Hand is supporting her son Blessed's education to become a florist (see separate story below)."
- narrated by Karin Hoole
"My name is Blessed Kuvarega. I was born in 1995 in Zimbabwe. After my mom's parents passed away she became the sole provider for nine family members. We were already very poor and with what was going on in Zimbabwe there was no means for her to support us all. When I was 12, my mother moved to South Africa in the hope of finding work so she could send us money for food. I stayed with my uncle. He was not always at home because of work, so I lived mostly with his wife. She was abusing me, always beating me and I could not live in that situation anymore. That was my reason for wanting to leave Zimbabwe. So when I was 14 years old, I am 21 today, my uncle traveled with me from Zimbabwe to our final destination by bus and truck. This was my first time in South Africa and it was such a great experience. It was so beautiful with so many different cultures mixed together.
We went to Khayelitsha to see my mother. She was so happy we arrived safely. When I started school in 2010 it was tough to hear and learn so many languages. Over time it got easier and I made new friends. Years went by facing many bad things, violence at school and seeing so much discrimination of races.
After years of struggling, and rewriting my final matric exam several times I finally made it. It was in this time while waiting for my results that I met Marsha Booi. She worked and still works for The Five Star Table Bay Hotel in the Waterfront. She told me to prepare a CV for her, which she took to the hotel and got me a job to work with her in the florist department. I knew nothing about floristry but started as a cleaner of flowers. After a while I became bored and wanted to learn more. I told Marsha I want to become a florist. They laughed and said it's not as simple as that. So I started learning the names of the flowers and practiced how to make flower arrangements. By the end of 2015 they were impressed with how much I have learnt already (see flower arrangement pictures). My mother was so proud of me and my dream of becoming a florist of weddings and events.
My mother contacted Karin at A Reaching Hand. Karin also helped my mother years ago and is so good to our family. Karin asked Bev to help me and to arrange for me to do a course in Floristry. It was in March this year I completed the course. The people at work could not believe that I made this happen. I did not give up and I worked hard. Thank you A Reaching Hand for believing in me and helping to make me a better and more skilled person. Now I have a better chance and more opportunities with my Certificate in Floristry. Thank you!"
- Blessed Kuvarega
Zubenathi's, Unathi's and Nkosinathi's Story
"Three siblings, all born to a destitute and traumatised woman. Today they are 14, 11 and 9 years' old, and the mother is 32.
The oldest, Zubenathi, was for many years not able to stay with his mom because of her increased health issues due to HIV/AIDS and not being able to control her alcohol abuse.
Fortunately, with financial aid from A Reaching Hand, Victoria was able to take Zubenathi into her loving care and nurture him as her own son and today he is a most well-mannered, confident and handsome young man.
He is a devoted sportsman and thanks to A Reaching Hand sponsors he was able to attend Gothia soccer Cup (The World Soccer Youth Cup) in 2015 where he had an amazing experience participating as a member of the Rainbow Team, a team made up of different ethnic groups from Cape Town, representing the Rainbow Nation - a metaphor for South African unity by Archbishop Desmond Tutu. There were 1,755 participating teams, with 38,500 players averaging 15.5 of age, from 75 nations. The Rainbow Team was chosen to represent South Africa at the grand opening, a big moment for all of us who could attend or watch it on TV. The team ended in the better half of their age group!
We are so proud of him. For a 14 year old boy, born in to extreme poverty to experience this event, not to mention to get on an airplaine for the first time in his life was a dream come true. He loved Sweden and looks forward to the next visit. We are hoping he will be able to participate this year again.
His sister, Unathi, is 11 years' old. She was adopted when she was 2 years, and now lives happily with the Hoole family. She sees her brothers and mom from time to time and is growing into a beautiful young girl who has many opportunities in her future.
His baby brother, Nkosinathi, is still living with his mom, getting support from my dear friend Joanne who ensures that Nkosinathi's mother gets him to school every day. At school A Reaching Hand pays so that he gets two meals a day, uniforms, stationary and transport money. Joanne oversees his health, general wellbeing and development, as he was malnourished as a child and has stunted growth. We also ensure that he can attend Joanne's aftercare were he gets help with homework and gets a nutritious cooked meal as there is rarely any food at home nor anyone who can help him with homework."
- narrated by Karin Hoole
"Nangomso Ngcebetsha (Soso) - Motivated, Ambitious, Driven and Goal-orientated¡
These above words describe the things that I am and which I stand for. Not one to mince words, I feel like I am at a point in my life where I know what I want, where I'm going and what is required from me to get there.
My journey with A Reaching Hand began with an innocent, and I will admit now, very naïve conversation, that I had with the very warm and friendly Ingegerd and Torbjorn, my sponsors, in the year of 2008. It was a random occasion where I wanted to get my hair plaited at my lovely neighbour's house. Upon walking out of my house, I saw a bus parked outside Victoria's house, and not taking note of it, or the significance of it much later, I went inside the yard. The first thing that caught my attention as I walked into the house were the cheerful sounds of kids laughing, and a general happy mood was in the atmosphere.
I do not remember much of what I said. All I knew was that I felt compelled to express my dreams, my ambitions, and my future plans. These were complete strangers, but I was young, eager and excited to talk about what I had in mind for my life. So excited was I that I did not realise that photographs were being taken while I spoke with what I assumed was grace and eloquence.
The event escaped my mind but clearly my dreams had took hold of Ingegerd and Torbjorn so much so that they contacted Karin Hoole, the founder of A Reaching Hand, and my mentor and second mother for the past 7 years. Soon after, Victoria communicated to my mother that I was going to be sponsored by a couple from Sweden. It would later appear that I have great skills with communicating with people who are across the other globe. Letters were sent and received; with words of inspiration, admiration and a great amount of love and sincere hope for my hopes and dreams.
Since then, I have been afforded with great opportunities, for like a chain reaction, I then received a full time scholarship while I was in high school. Things were looking extremely wonderful, and I was now motivated more than ever before to ensure that I do the best that I can not only for myself, but for my family, and my family in Sweden. Both were very supportive, and encouraged me to go after what I want. My mother instilled in me the belief that I will not go very far in life without education, and my life story, my biography is testimony to what she always told me. Because it is through education that I have embraced the beauty that is life, that I have seen a better future not only for myself, but for those around me.
With my story I hope to inspire young minds to believe so that they may achieve. As a Drama and English student, I want to be a part of the teaching field. I am studying full time at Rhodes University, with the hopes to attain a degree in Drama as well as English, and perhaps Philosophy. I am in my second academic year. Right now, I am exploring what it means to be young, free and educated. Every day I am learning something new about myself, about the world, because both these things are very complex in nature. I am trying to find and establish my place in the world. I am not as certain as I was when I was younger, with stars in my eyes. My vision is clearer, but I have come to realise that everything that I have always wanted I will get eventually.
The world works in very mysterious ways. When my two brothers and I were living in the rural areas of uMtata in our early childhood, I never imagined we would be here. The tragedy of my younger sister's passing basically gave us the life that we now have. It sucks that something horrible like a fire had to happen in order for us to relocate to Cape Town. I miss her every day, and I feel her spirit is with me all the time.
But as I tend to believe, everything happens for a reason. Just like that pleasant encounter in 2008, with Ingegerd and Torbjorn happened for a reason. I look back on everything and I feel extremely blessed. Without the supportive structures in place in my life, I would not be where I am now: my mother, my brothers, and my A Reaching Hand family. I owe it to them that I can proudly say that I am young, free and educated."
- Soso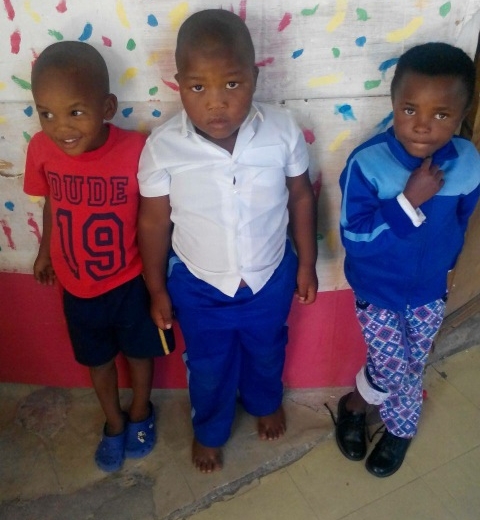 "Sweetness Mkonquo is one of the caregivers at the kindergarten supported by A Reaching Hand which is located in the poverty-stricken squatter area of Nkanini in the township of Khayelitsha. Sweetness is one of six caregivers who assists in caring for over 60 children every day from 6am to 6pm, Monday to Friday. Sweetness is 24 years old and was born in the mountainous region of the Eastern Cape Province of South Africa. She is the youngest of two sisters raised by her mother, a single parent. Her father died when she was quite young. She has not had an easy life, spending most of her youth caring for her HIV positive sister.
When you meet her, her sweet and caring nature is obvious by the beautiful spontaneous smile that lights up her face, although her shyness inhibits her. She came to Cape Town seeking employment to help take care of her sister and mother, both of whom are unable to find work. The unofficial unemployment rate in the rural areas is above 80%.
Although she receives only a small income, she pours her heart and soul into caring for these kids as though they are her own. She is certainly a valuable addition to the kindergarten, especially for the children. The next picture shows a few kids who attend the kindergarten, shyly posing, although they love having their picture taken."
- narrated by Phumeza, Sweetness' Kindergarten Principal
"My name is Patricia. I was born in Zoar, Ladismith in the Klein-Karoo. I now live in Delft-South in Cape Town.
My grandmother raised me because my mother was always out partying and having good times with her friend. There were times when all I wanted was to be with here, but she never had time for me. As the years passed we had easy times and difficult times. Then my grandmother died. I was left alone with my brother and cousin and had to take care of myself.
When I was at high school I met a boy and it turned into a relationship. I was in Grade 10 when I fell pregnant. After I gave birth to my beautiful boy I wanted to go back to school but my mother refused to look after my child so I had to leave school to look after my child. Life was hard because I had no money. The father of my child also had no job and soon our relationship ended. I had to be satisfied with a social welfare grant to keep us alive. After my son turned one year old, my aunt asked us to come live with her in Cape Town. I agreed to move there.
It was here when I started to drinking and started smoking like a chimney. As time passed I met someone else and he seemed to care for my child a lot. It was not always nice to live with other people, even your own family, because they can mistreat you. I was treated like a maid, cleaning, washing, ironing. Because of the way they treated me, I moved out and moved in with my boyfriend. We both drank and smoked and fought too much. I fell pregnant again. My daughter was born. As the years went by we continued fighting and many times about money. Weekends my children went to sleep in other peoples homes because of how we behaved in front of them. A few years later my boyfriend got sick with TB (tuberculosis) and blamed me for it. I started drinking so much I would sell things in my home to buy more alcohol. I started giving up hope on everyone and everything and wanted to end my life. It felt like nobody understood me and nobody loved me and I drank even more.
My boyfriend then asked me to marry him and I said yes. Just when I thought that it would be sunshine and roses, we were back to our old habits. Alcohol cannot be good for any relationship especially when there are kids. Soon I moved out to stay with a friend. The drinking continued.
Time passed and it was one day on my daughter's birthday, when my husband fetched her. I told him that I heard from others that he changed his life. He said yes, and I then made a decision to join him at church. That Sunday I went with him to church and made a decision that I do not regret to this day. I accepted Jesus Christ into my life and everything changed. I went back home to my husband and my life is very different now. Smoking and drinking is something of the past. My husband and I now serve God together. We understand and respect each other. No more fighting. We grew to love each other so much more again. Beautiful things started happening in my life.
I then met a few very nice people and I mean they were the nicest people I ever met in my life. It was A Reaching Hand. They came into our community in Delft-South to help the unemployed people. They taught us how to bake bread. Then they started a project where they now taught us how to bake different health breads. They say it's called artisan baking. We then sold the breads in our community. This project helped me get my self-confidence back because they trusted me to manage the money from the sales of the breads. Later our bakery was called "Orange IQ" and I was asked to manage opening and closing the building we worked in. Later Orange IQ started another project and I am so thankful to A Reaching Hand for that. They started a Saturday morning Art class for the children in the community, which my daughter Jeneva (sponsored by ARH - in photo with Karin), attended. After a while A Reaching Hand got myself and the other baker ladies a job at The Khayalitsha Cookie Company.
I am so thankful. I want to thank God for everything he has done in my life. Karin, Charlene and Bev, I love you so much. Thank you for believing in me and loving me. Also thank you to Adele from UNISA who always came to help us with our baking. Thank you to Kobie, Jan and Elsmie from Tygerberg Art Centre for giving up their Saturdays to teach our children art. May God continue to bless you all."
- Patricia